Description:
Testosterone enanthate is an oil based injectable steroid , designed to release Testosterone slowly from the injection site (depot). Once administered, serum concentrations of Testosterone enanthate will rise for several days, and remain markedly elevated for approximately two weeks. It may actually take three weeks for the action of Testosterone enanthate to fully diminish. For medical purposes Testosterone enanthate is the most widely prescribed Testosterone, used regularly to treat cases of hypogonadism and other disorders related to androgen deficiency. Since patients generally do not self- administer such injections, a long acting steroid like Testosterone enanthate is a very welcome item. Therapy is clearly more comfortable in comparison to an ester like Testosterone propionate, which requires a much more frequent dosage schedule. Testosterone propionate has also been researched as a possible male birth control option Regular injections will efficiently lower sperm production, a state that will be reversible when Testosterone propionate is removed. With the current stigma surrounding steroids however, it is unlikely that such an idea would actually become an adopted practice.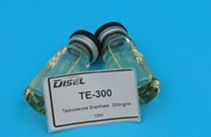 Dosages and Uses:

Testosterone Enanthate doses can vary greatly depending on the purpose of use, experience, desires and needs. There is no one size fits all dose, but there are ranges we can go by in order to guide us along the way.
In therapeutic treatment plans, specifically TRT, standard male Testosterone Enanthate doses will fall in the 100-200mg per week range. The total dose may be administered once a week or in two small injections such as 50-100mg twice a week, i.e. every Monday and Thursday.
For the anabolic steroid user who is not using testosterone as a base compound in his cycle yet he does not suffer from low testosterone, Testosterone Enanthate doses of 200-250mg per week will be the most common and should protect most all men from a suppressive state. Some may be able to get away with a little less, but most will find they're most comfortable in this 200-250mg per week range.
For true performance enhancement, standard Testosterone Enanthate doses will rest at 500mg per week or an approximate dose close to that mark. Some may prefer 250mg every five days but 500mg per week will be the most common.
Testosterone Enanthate Doses of 600-1,000mg per week are not uncommon. However, once Testosterone Enanthate doses begin to surpass this level, we will find the issue of side effects becomes stronger. Many men should be able to tolerate 750-1,000mg per week, but more risk will exist.

Base Test Enanthate cycle:
It is perfect for the first time anabolic steroid user, many will simply run the Enanthate compound for 12 weeks and nothing more and be satisfied. however, ensure you conjoin this use with an Aromatase Inhibitor (AI) in order to protect against estrogenic effects. While a base Testosterone Enanthate cycle may only include Testosterone Enanthate, other items can be added. Dianabol and Anavar are both solid options; you will find Dianabol works best with an off-season bulking plan and Anavar with a cutting plan. With that in mind, below we have listed two base Testosterone Enanthate cycles to guide you. These are merely samples; you may need to adjust the total stack and dose to meet your needs.
Week

Testosterone Enanthate

Dianabol

Arimidex

1

500mgs/WK

25mgs/ED

0.5mgs/EOD

2

500mgs/WK

25mgs/ED

0.5mgs/EOD

3

500mgs/WK

25mgs/ED

0.5mgs/EOD

4

500mgs/WK

25mgs/ED

0.5mgs/EOD

5

500mgs/WK

25mgs/ED

0.5mgs/EOD

6

500mgs/WK

25mgs/ED

0.5mgs/EOD

7

500mgs/WK
Side effects of Testosterone enanthate
Testosterone is a powerful hormone with notably prominent side effects. Much of which stem from the fact that Testosterone exhibits a high tendency to convert into estrogen. Related side effects of Testosterone enanthate may therefore become a problem during a cycle. For starters, water retention can become quite noticeable side effect of Testosterone enanthate. This can produce a clear loss of muscle definition, as subcutaneous fluids begin to build. Being a Testosterone product, all the standard androgenic side effects are also to be expected. Side effects of Testosterone enanthate are oily skin, acne, aggressiveness, facial/body hair growth and male pattern baldness are all possible. Older or more sensitive individuals might therefore choose to avoid Testosterone products, and look toward milder anabolics like Deca Durabolin® or Equipoise® which produce fewer side effects. Others may opt to add to Testosterone enanthate the drug Proscar®/Propecia®, which will minimize the conversion of Testosterone into DHT (dihydrotestosterone). With blood levels of this metabolite notably reduced, the impact of related side effects of Testosterone enanthate should also be reduced. With strong bulking drugs however, the user will generally expect to incur strong side effects and will often just tolerate them. Most athletes really do not find the Testosterones all that uncomfortable (especially in the face of the end result), as can be seen with the great popularity of such compounds.
How to make an order :

1. Name what your need ( which product , quantity )
2. Full payment would be done once we come to an agreement on all details .
3. Parcel would be shipped out upon receipt of payment .
4. Info about parcel would be offered ( Photo , tracking number )
5. Finally you would get the parcel in 3~7 days .


Payment and Shipping:





Our service:

1.We have experience in exporting Pharmaceutical intermediates .
2.Professional packing with professional materials
3. We have products in stock, and we will deliver them soon when your PO arrived. Meanwhile we will give you the tracking number in order to make you know the exact location of the products. We will keep track of the product until they arrive you; We choose the best courier service for you, and with the delivery around 5-7 working days.
If any new enquiry,please feel free to contact us!

Our Advantages:

1,High quality under strict QC/QA system with GMP factory price
2,Fast and safe delivery with secure and discreet shipment
3,Providing complete services with our resource integration, we can thus create more competitive
advantages for you!