Details:

This derivative of testosterone is a great hit with American athletes as it provides more of a "kick" than other testosterone derivatives like testosterone enanthate. In addition to this, the cypionate version of testosterone is believed to produce a marginally higher level of fluid retention but not much to be discerned. This long-lasting oil-based injectable has the potential of keeping the levels of testosterone sufficiently elevated for as many as two weeks.
It is classified as the oil-soluble 17β-cyclopentylpropionate ester of the androgenic hormone (testosterone). Its chemical name is androst-4-en-3-one, 17-(3-cyclopentyl-1-oxopropoxy)-, (17β)- and the molecular weight is 412.61 and its molecular formula is C27H40O3. Use of this anabolic androgenic steroid can be easily associated with significant gains in the levels of body strength and muscle mass during a bulking cycle.

Dosages and Uses:

The recommended dose of testosterone cypionate for men is 200-800mg per week and this steroid is usually injected on a weekly basis.
The use of testosterone cypionate can lead to the suppression of endogenous testosterone production and therefore it is best to include a testosterone-stimulating drug such as HCG, Clomid, or Nolvadex at the end or just before the end of an anabolic steroid cycle. These drugs also have the ability to help users avoid a strong "crash" because of the hormonal imbalances that may nullify or reduce much of the new muscle mass and body strength.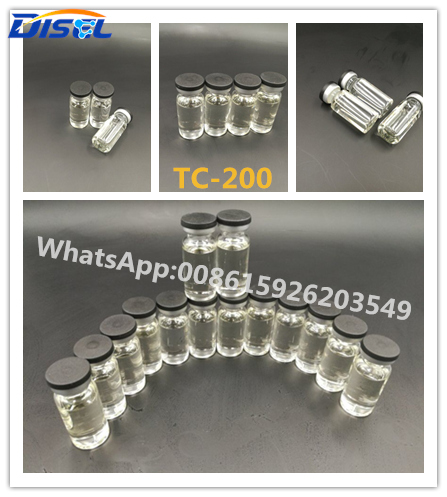 Cycles:

For an off-season Testosterone Cypionate cycle, the following plan is quite common:
Week

Testosterone Cypionate

Deca Durabolin

Anadrol

Arimidex

1

600mgs/WK

400mgs/WD

50mgs/ED

0.5mgs/EOD

2

600mgs/WK

400mgs/WD

50mgs/ED

0.5mgs/EOD

3

600mgs/WK

400mgs/WD

50mgs/ED

0.5mgs/EOD

4

600mgs/WK

400mgs/WD

50mgs/ED

0.5mgs/EOD

5

600mgs/WK

400mgs/WD

50mgs/ED

0.5mgs/EOD

6

600mgs/WK

400mgs/WD
How to make an order :

1. Name what your need ( which product , quantity )
2. Full payment would be done once we come to an agreement on all details .
3. Parcel would be shipped out upon receipt of payment .
4. Info about parcel would be offered ( Photo , tracking number )
5. Finally you would get the parcel in 3~7 days .


Payment and Shipping:





Our service:

1.We have experience in exporting Pharmaceutical intermediates .
2.Professional packing with professional materials
3. We have products in stock, and we will deliver them soon when your PO arrived. Meanwhile we will give you the tracking number in order to make you know the exact location of the products. We will keep track of the product until they arrive you; We choose the best courier service for you, and with the delivery around 5-7 working days.
If any new enquiry,please feel free to contact us!

Our Advantages:

1,High quality under strict QC/QA system with GMP factory price
2,Fast and safe delivery with secure and discreet shipment
3,Providing complete services with our resource integration, we can thus create more competitive
advantages for you!